(Press Release from Inyo County District Attorney Thomas Hardy)
(3/4/2020)
Brandee Trujillo of Los Lunas, New Mexico, was held to answer today on multiple felony charges following a preliminary hearing in Inyo County Superior Court. The charges all arise out of the January 6, 2020 shooting incident at the Shell Wye Mart in Bishop.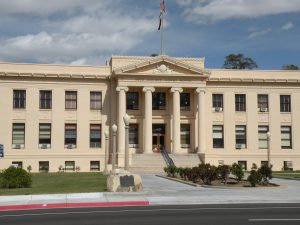 At the preliminary hearing, Presiding Superior Court Judge Brian Lamb considered evidence presented by the District Attorney's office and found that there was reasonable and probable cause to hold Ms. Trujillo for trial on charges of Attempted Murder, Conspiracy to Commit Robbery, Conspiracy to Commit Carjacking, Attempted Robbery, Attempted Carjacking, and being a felon in possession of a firearm.
The Court also found reasonable and probable cause to believe that Ms. Trujillo was personally armed with, and discharged, a firearm in the course of the offenses.
If convicted of all charges and enhancements, Ms. Trujillo could be facing as much as 20 years to life in state prison.
The evidence presented at the preliminary hearing was the testimony of investigating officers from the Bishop Police Department. Deputy District Attorney David Christensen represented the People at today's hearing and has been assigned as the lead prosecutor in the case.
Bail in the case remains set at $500,000.00. She will be arraigned on a felony Information (the formal charging document) on March 17, 2020.
As in any criminal case, Ms. Trujillo is presumed to be innocent until the charges are proven beyond a reasonable doubt at trial. The burden of proof at a preliminary hearing (reasonable and probable cause) is substantially lower than the proof beyond a reasonable doubt required to convict a defendant at trial.