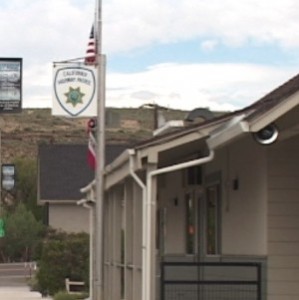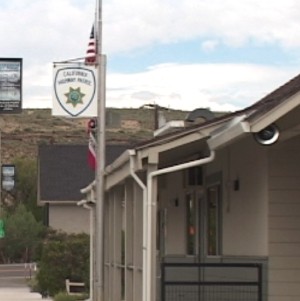 (CHP Press Release)
On Thursday, August 28, 2014, at approximately 6:45 P.M, a 2009, Kenworth truck, with flatbed trailer combination, was traveling southbound on US Hwy 395, south of Bridgeport near Jack Sawyer Road, when it struck a low hanging telephone wire that crosses the highway.  This resulted in a brief loss in power to the surrounding area and damage to the telephone line.  
Officers and a sergeant assigned to the CHP's Bridgeport office quickly responded to the scene and located the damaged telephone line now hanging just above the roadway.  Officers slowed vehicle traffic and safely guided drivers around the low hanging wire.  The involved vehicle was not at the scene.  A CHP officer assigned to the Mammoth Lakes Resident Post began looking for the involved truck/trailer combination and at approximately 7:40 P.M., located it near June Lake's "South Junction."  The officer made an enforcement traffic stop on the truck and contacted the driver, Mr. John Pike Jr, age 58, of Puyallup, Washington.  Mr. Pike reported to the officer he had no idea his truck had struck the wire.
Personnel from the Bridgeport Fire Department and Mono County Paramedic Rescue, Medic 7 (based in Bridgeport), arrived at the collision scene and creatively utilized a series of plastic cable ties while precariously perched above US 395 to temporarily secure the telephone wire above the roadway at a sufficient height, allowing vehicular traffic to travel beneath.  CHP Bridgeport officers remained at the scene utilizing their vehicle's emergency lights to slow and warn approaching traffic until representatives from Verizon Communications were able to arrive from Bishop and complete repairs.