Cold, windy weather is no stranger to the opening of the Eastern Sierra trout season. Many a shivery late April has seen fishermen wrapped in warm clothes, braced against the wind. This year, the bad weather scenario played out wildly on Saturday but calmed down nicely for Sunday.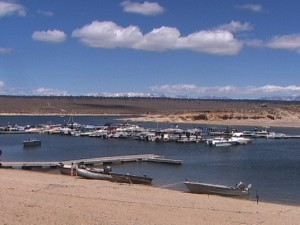 Lane Garrett of Crowley Fish Camp said business was down about 20% but fishing, he said, was really good. Cleland Hoff was there and talked to Garrett
Who said it all started with several thousand people coming through the front gate, heading for their boats or rentals. It was all going fairly well until the wind picked up. A lot of people got blown off the lake, said Garrett. Boat patrols from both Inyo and Mono counties helped anglers whose boats were nearly capsized by the high wind and waves.
For those who stuck it out through the wind, Garrett said they caught some beautiful fish. Big browns, big rainbows, big cutthroats. Garrett said the season should offer some great fishing. He said Fish and Game dumped extra fish in the lake since they ran out of money to feed them in the hatcheries.
We should be in real good shape fish-wise for the next season or two, said Garrett.