Officials with the Department of Fish and Game recently took a report from an angler who had caught what were described as trout that were full of parasites out of the Owens River Gorge area. The angler wanted to know if the Department of Fish and Game had planted parasite-ridden hatchery fish in the Gorge.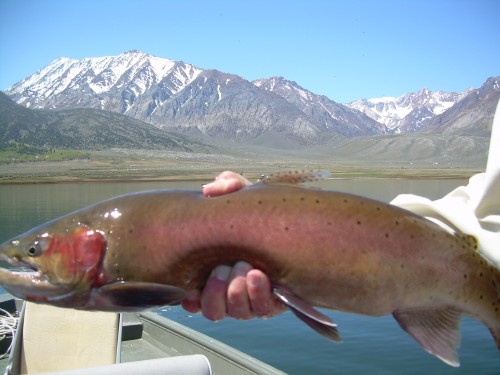 When we spoke with Dr. William Cox with Fish and Game, he explained that parasites are common in wild fish but that they dont see parasites in the hatcheries. Dr. Cox explained that there are basically two types of parasites – the internal parasites like tapeworms and the external parasites that grow on the outside of trout like anchor worms.
At the hatchery, trout food is pasteurized so there arent any internal parasites. Dr. Cox explained that while no one is sure why, external parasites which spread through water are not found in hatcheries either.
Once released, its a different story. Parasites are common outside of the hatcheries. One possible reason for more parasites is more fish. Cox says that with stepped up fish planting, there are a lot more fish in the Owens River and the Pleasant Valley Reservoir. More fish means more parasites can be successful and complete their life cycle.
Dr. Cox explained that Fish and Game pathologists had not confirmed the reports of parasite-ridden fish in the Owens River Gorge, but he did say staff appreciates feedback from anglers. If you catch a fish that you think has parasites, Dr. Cox recommends putting the fish on ice and bringing it by the local Fish and Game office in Bishop. If you are concerned about eating a trout with visible parasites, Fish and Game staff reports they are safe to eat once the trout is fully cooked.