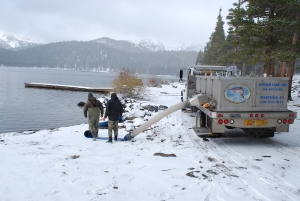 1,200 Pounds of Trout Stocked in the Mammoth Lakes Basin (press release)
Mammoth Lakes, Calif. (May 20, 2014) — There may have been snow on the ground, but that didn't stop Desert Springs Trout Farm from stocking 1,200 pounds of trout in the Mammoth Lakes Basin this morning.
The trout were hearty 3-5 pounders and were stocked as part of the 2014 contract between the Town of Mammoth Lakes, Mammoth Lakes Tourism and Desert Springs.
Desert Springs is scheduled to stock approximately 14,000 pounds of trout in the Lakes Basin throughout the summer.
All those pounds of fish mean the lakes will continue to be well stocked into October ensuring great fishing opportunities all season long. Anglers visiting in the fall at the end of the season will have just as good of a shot to catch a huge fish as someone visiting earlier.