The Tri-County Fairgrounds is accepting donations for fire victims in the Patio Building starting at 10:00 this morning.  We could use a couple more volunteers, and of course donations of clothing, toiletries and everyday necessities.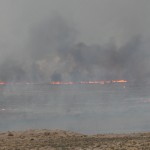 ###
UPDATE: 9:30 AM
The Round Fire:
Acres: 7,000 – 30 percent contained
photo (9)
20 structures and outbuildings destroyed (preliminary county)
200 personnel; 47 engines; 29 fire crews, two bulldozers
One injury to firefighter due to smoke inhalation
Significant rain stopped the forward rate of the fire around 2am. Downed power lines and venting propane tanks make re-entry for residents dangerous
Calfire: We are looking at possible escorted re-entry tomorrow afternoon or evening.