– Press release
The Eastern Sierra Tri-County Fairgrounds has received several calls and comments regarding watering practices on the grounds during this time of drought. By way of explanation and in an attempt to clear up any misunderstandings, the Fairgrounds offers this information to the public regarding its watering practices and plans for the upcoming event season.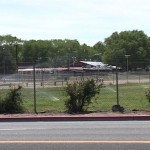 "First, I would like to say that we are very aware of the need for water conservation, and we are doing our part to conserve during this terrible drought," commented Fair CEO Sally Symons. There are about 30 acres in the core of the fairgrounds that are under sprinklers for watering needs, none of which is on an automated or timed system. "Under an antiquated manual system such as we have it is nearly impossible to adhere entirely to the 5pm-9am mandate put forth by the City of Bishop. We are doing our best to work towards that, and are making cuts in other areas to help make up for that shortcoming," continues Symons. "Ideally, an automated, timed system would be great, but that is financially prohibitive and would take more time than we have to address the immediate situation."
The Fairgrounds has already cut usage by nearly 40%. The front pasture on Sierra Street, that makes up 20% of what would normally get water is not getting watered at all, and will only be hit with a water truck briefly prior to events for dust control. "We have cut our watering hours and times drastically already, and will continue to do so as the event season progresses. It is a fine line between keeping the Fairgrounds viable and meeting the necessary water cuts," Symons states. "In addition to letting the Sierra Street pasture die, we have cut watering times in the fairgrounds core by 30-40% in some areas already."
To keep the fairgrounds viable through the upcoming event season, the plan is to water minimally in between events so that landscaping does not die off completely, then water a little more just prior to events for dust control and to keep the grounds a little green.
"It should be noted that we are following all of the water mandates set forth by the City of Bishop and the State of California to the best of our resources and abilities. Based on State of California mandates, we are technically classified as agriculture and are exempt, but to make that call and ignore said mandates would be irresponsible and arrogant under our community's current circumstances," explains Symons. "I want the community to know that we are conserving, we do care deeply about the drought and all of its implications, and at the same time we are doing our best to keep the important resource of the Fairgrounds a viable part of the community."