– Press release
The Eastern Sierra Tri-County Fair is once again asking for entries from the public to determine the slogan for the 2015 Fair. The slogan contest is open to any resident of Inyo, Mono or Alpine Counties.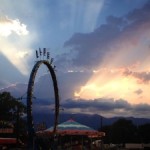 "We recently came across premium books in the fair office from 1896, 1900 and 1901. They got us to thinking about our area's rich heritage and agricultural history," stated Tri-County Fair CEO Sally Symons. "In connection with this find we decided to look for a slogan for the 2015 Fair that includes the heritage of the Eastern Sierra and the cultures that call Inyo, Mono and Alpine Counties home. Ideally, this year's theme will encompass the Agricultural, Native American and Hispanic cultures and heritage unique to our area," continued Symons.
"A tall order for sure, but we here at the Eastern Sierra Tri-County Fair are confident in the creative abilities of our community members. We certainly look forward to reviewing the entries and choosing a winner," Symons concluded. Any questions should be directed to the Fair Office at 760-873-3588 or [email protected].
Entries can be submitted via email to [email protected] , by US mail at Tri-County Fair, PO Box 608, Bishop, CA 93515 or via fax at 760-873-8874. Entries must be received no later than January 31, 2015. The person that submits the winning entry will be awarded a 4 day all event pass to the 2015 Eastern Sierra Tri-County Fair.