The concert might not start until Friday, the rodeo isnt until Saturday, and the ever popular Destruction Derby doesnt start until Sunday night, but the 2009 Tri County Fair was in full operation all this week.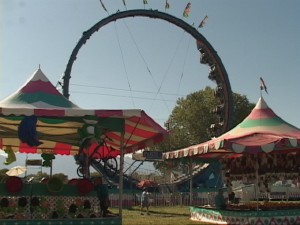 The Fair technically started Thursday at 4:00 pm, but all this week people who have worked over the summer on their fair entries brought the fruits of their labor to the fairgrounds to compete for ribbons, trophies, cash and prizes.
From kids artwork or photography to the perfect pie and homemade beer, there are categories for just about everything at the fair. With so many ways to compete, its not unusual for a single person to enter 20 or 30 different contests. Weve even seen as many as 400 entries from a single Bishop Family.
For volunteers, fair staff, and the competitors, the Fair began a week ago. The non-perishable fair entries, like photography, clothing, quilts and dolls, were entered on Saturday.
The gardens of the Eastern Sierra are full this summer, and we expect a good showing in all of the agriculture categories. On Tuesday, dry floriculture, place settings, baked goods, preserved foods, beer and wine, and others were set for entry into the fair. Many of these popular categories came in on Wednesday as well.
While many categories have to be on display and judged by the time the fair opens , others, usually the tasty categories, are judged in public. The pie contest was scheduled for Thursday night at 6:00pm, along with the favorite cookie contest. Friday night at 6:00pm, thats when those who appreciate the finer things in life show up for the best barbecue, homemade dip, and beer and wine contests at the aptly named Party Barn.
This week was hectic for those working to put the last minute touches on their entries, the judges, and staff at the fairgrounds. The rest of us merely need to show up, and enjoy what our neighbors and friends have to offer.