Starting January first, the price to hop on a bus in the eastern sierra is scheduled to go up. With the cost of doing business always on the rise, the Eastern Sierra Transit Authority Board recently approved rate increases for bus service like the Dial a-Ride and the CREST route to Reno.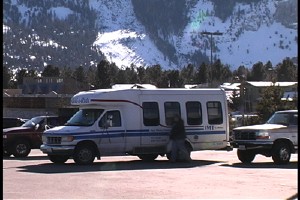 Rising costs are cited as the reason for this first fare hike in 9 years. Jill Batchelder with ESTA, explained wages for employees have gone up. Fuel and maintenance have gone up tremendously as well, she reports.
How much the rates will go up depends on the route and the service. Batchelder reports that the goal was to keep local rates on the low side, while the longer haul service used by visitors as well as locals will go up more. The price of the Bishop to Mammoth service will rise from $5.50 to $6.50. CREST Service from Bishop to Reno will go up from $28 to $40 she explained.
The rate changes affect most ESTA transportation route in the Eastern Sierra, but the trolley and the Lift in Mammoth (paid for by the town bed tax) will remain free to riders.
To find out about specific rate changes, call the Eastern Sierra Transit Authority at 872 1901. Press zero to talk to an operator, theyll fill you in.