It took a consultant to tell the Eastern Sierra Transit Board that their organization suffered from "mission conflict." In non-bureaucratese, that means some officials assumed ESTA was about transit. Others assumed it's about service, particularly to frail customers who need extra help. At last Friday's ESTA Board meeting, the divergent views came out for candid talk.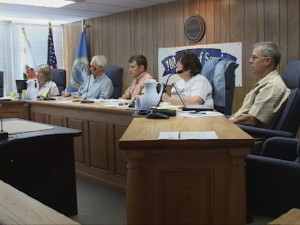 First, an attorney talked about liability when drivers help elderly customers. Mono County Attorney Mark Magit let the Board know that one incident would cause liability insurance rates to go up. Magit did say the practices of helping customers has gone on for a long time with no incidents. He said if this is continued, extra training for drivers would help. He said risk could be minimized for a valuable service.
Inyo Health and Human Services Director Jeanne Turner offered her department's help with training and maybe even personal assistance.
Bus driver Kathy Liberato said the drivers want to cater to people and help them. "It's a welcome part of our job," she said.
Board members from Mammoth made it clear that their priority is transit, particularly for tourists. John Eastman said the conflict exists between transit services and social services. Others said it's about balancing those needs.
Linda Arcularius made the strongest statement. She said she sees no distinction between social services and transit services. "Drivers have to have pride in their work," she said. Arcularius said all kinds of customers need extra care – from skiers to the elderly. She supported seamless service for all. Others came along with Arcularius who added, "As human beings, we can not let the needy go." No one disagreed.