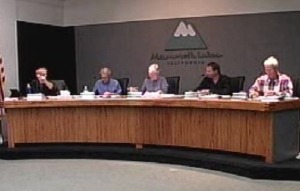 At their meeting Wednesday night, members of the Mammoth Town Council unanimously moved ahead with some major plans for recreation and trails in and around the town.
First, they approved the long worked on Parks and Recreation Master Plan.  Councilman Rick Wood commented that he was heavily involved in recreation planning in the 90s.  Wood said compared to what was happening back then, the new Master Plan is "sophisticated and thorough."  He called it a great document.  All council members voted to adopt it.
Then the officials moved on to the next major recreation step – a resolution to establish interagency cooperation between the Forest Service and the Town of Mammoth Lakes to "plan, design, implement, construct, operate, maintain and promote an integrated year-round trail network." Town Manager Dave Wilbrecht credited the Mammoth Lakes Trails group with helping everyone to arrive at a trails plan.  The Council voted unanimously to approve the resolution and the creation of a Mammoth Lakes Trails Co-ordination Committee to help move things forward.
Some Measure R tax money will help move the trails forward, too.  The Council approved Measure R funding recommendations of nearly $344,000.  $300,000 of that goes to the Town for trails and parks for this fiscal year and next.
But it might have been the information from Public Works Director Ray Jarvis that got a lot of attention from locals.  Jarvis thought the public might like to know the details of snow plowing.  He joked that talking about it might bring on another much-needed storm.
Jarvis said that when a snow storm hits, 9 pieces of equipment hit the roads.  They work in split shifts that start at midnight and noon.  At night, the 9 plows or so go up Meridian Boulevard and also clear Old Mammoth, Minaret and the Trails subdivision.  Then plows head to the Village, Frontage Road, the Community Center and residential streets.  Jarvis said the plows stack up berms and the snowblowers come along and blow the snow off the roads.  Two plow trucks follow-up after the first plows.
The day shift sees around 6 plows on the roads.  Jarvis said the timing of the storms is critical.  Sometimes the Town plows and then more snow hits.  Jarvis said he is open to any suggested improvements in how the Town clears the roads.