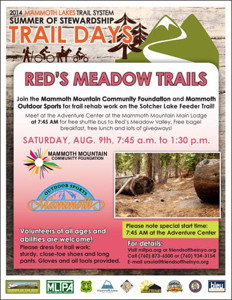 Friends –
The trails of the Reds Meadow Valley are jewels of the Mammoth Lakes Region and the Mammoth Lakes Trail System, and thanks to the Eastern Sierra Transit Authority (ESTA) the Inyo National Forest and Mammoth's own Measure R, the Summer of Stewardship Trail Days is finally getting a chance to bring the love! Join the Mammoth Mountain Community Foundation, Mammoth Outdoor Sports, MLTPA, and Friends of the Inyofor trail rehabilitation work on the Sotcher Lake Feeder Trail this coming Saturday, August 9th. Please note the extra special ESTA bus loading start time of 7:45 a.m. up at the Adventure Center at Main Lodge! All ages are welcome, and a free lunch and raffle prizes will be had by all – everybody goes home a winner! Special thanks to Old New York Deli, Mammoth Brewing, Bleu Handcrafted Foods, Footloose Sports and Mammoth Sunrise Rotary.
All volunteers will get an introduction to trail maintenance skills from Friends of the Inyo staff, and those interested in being regular members of the Mammoth Lakes Trail System stewardship team should be sure to show up to get trained up for future projects.
We'll be meeting for lunch at 12:30 up at the Sotcher Lake Trailhead – thanks to Bleu Handcrafted Foods and Sunrise Rotary – and chilled Root Beer thanks to Mammoth Brewing. And thanks to KMMT Radio for providing priceless airtime and high line studio chops to let everybody in on the fun!
All ages and abilities are welcome, and we love to see families and clubs! Please arrive dressed for trail work (long pants, sun protection, sturdy close-toed shoes), and please don't forget the very extra special start time of 7:45 AM at the Adventure Centre at Main Lodge – the love bus will leave at 8:00 AM sharp!
Visit mltpa.org or friendsoftheinyo.org for more information; call (760) 873-6500 or (760) 934 3154; or e-mail ursula@friendsoftheinyo.
See you at the Adventure Center at the Main Lodge at 7:45 AM!
John Wentworth
MLTPA Foundation