Traian Morris
1959-2017
All funeral services will be held in Bishop CA. The viewing will be held on
Friday, May 5th 2017
from 5-
7pm
at the Brune Mortuary, 325 W. Elm Street.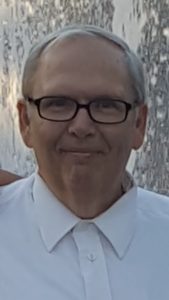 The memorial service will take place
on Saturday
, May 6th 2017 at
11am
at the Church of Jesus Christ of Latter-day Saints, 725 Keough Street. The burial will follow the memorial service at the East Line Street Cemetery, 2000 Poleta Rd.
Traian Morris was born in Las Vegas NV on Dec. 5th 1959 to Robert Morris and Jorene Mordecar. On April 22nd 2017 Traian passed away at the age of 57 in Bakersfield, he was currently living in McFarland CA.
He passed away unexpectedly from a blood clot that stopped his heart.
Traian lived in various places throughout his life, yet Bishop California held a special place in his heart because it was where he met his wife Socorro and raised his three children. He was a devoted husband and loving father.
He taught his children that education is very important and that hard work is required
to achieve your dreams. Even at the age of 57 he was studying to become a social worker.
Traian was a very sincere, caring, and loving person who loved making new friends and giving service to others in any way he could. He was very involved with his church (The Church of Jesus Christ of Latter-day Saints). It was a big part of his life where he made some of his strongest friendships.
Traian will be greatly missed by his family and friends but we know he is happily reunited with his loving wife-Socorro, friends and family who have gone before him, and is welcomed there by the glory of God.
Traian is survived by his mother, Jorene; Stepfather, Thomas; brothers, Tris, Chuck and Jamie; children, Jose, Victor and Alejandra; brother and sister in-law, Conrado and Lupe; nephews, nieces and many other wonderful family members.