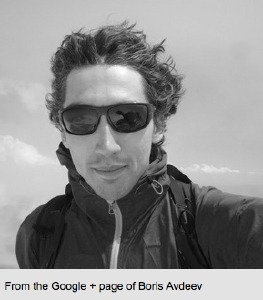 According to the Mono County Sheriff's Office, on Thursday, May 3, 2012, at approximately 3:30pm, Boris Avdeev, age 31, of Ann Arbor, Michigan, was found, by search and rescue teams, deceased in Cocaine Chute, a popular backcountry skiing location. Mr. Avdeev was an experienced backcountry skier that went missing on April 19, 2012.
On Friday afternoon, May 4, 2012, Mono County Sheriff's Search and Rescue (SAR) ground teams, with the assistance of other agencies, recovered and carried out Mr. Avdeev's body from the Cocaine Chute area and concluded this search and rescue operation.
The Mono County Sheriff's Department thanked the Douglas County, El Dorado County, and Yosemite Search and Rescue teams, along with Fallon and Mather Air Stations for their aid in the search and recovery of Mr. Avdeev. Circumstances that led to Avdee'vs death have not been revealed.  Final cause of death is pending autopsy and toxicology results.
According to Ann Arbor.com, Avdeev was a University of Michigan doctoral graduate and doctoral candidate in the Earth and Environmental Sceince Department from 2006 until 2011.  The report said that Avdeev was a graduate with a specialty in tectonics.  He was reported as a native of St. Petersburg, Russia and also a specialist in the geology of the Greater Caucus Mountains.  Avdeev was scheduled to start a post-doctorate fellowship at the University of California at Berkeley in the fall.