More mishaps on our highways and byways. In the intersection outside the Sierra Wave studios a collision on Saturday. The crossing of Wye Road and Highway 6 produces a fair number of collisions in a year.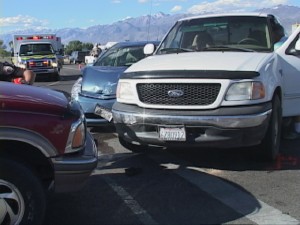 This time, it appeared there were no serious injuries. Witnesses said that a big rig was getting ready to turn north onto Highway 6 from the east side of Wye Road. The white pick-up truck was behind the big-rig. The witnesses said the truck driver waved the pick-up to go around him. The truck did and collided with the small, blue car. The truck also bumped into another car.
It was a mess in a busy intersection for a Saturday evening. This is one of the intersections the Bishop Police Chief hopes to make safer. A lot of traffic goes through it four ways. The City of Bishop has a plan to straighten the Wye Road traffic direction lanes which some say will give motorists a "fighting chance to safely make it through the odd intersection."
Meanwhile, in another part of the Sierra, a motorist's car caught on fire at a high elevation on Westgard Pass. The temperatures had warmed up and so did the car. The Highway Patrol and Big Pine Fire responded. There were no reports of injuries. The CHP did not report the cause of the car fire.
Some familiar with that area said it could easily have been an over-heated engine. They voiced the importance of Caltrans posting the fact that radiator water is available, right around the next curve.