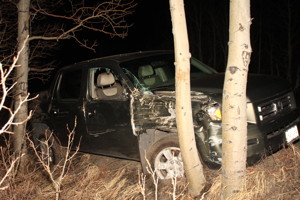 (CHP press release)  On Thursday, February 13, 2014, at approximately 10:00 P.M., California Highway Patrol (CHP) Bishop Communication Center received a report of an abandoned vehicle with major traffic collision damage. A CHP officer from the Bridgeport Area's Mammoth Lakes Resident Post responded to the collision location and initiated an investigation into the solo traffic collision.
The registered owner of the vehicle arrived on scene and confirmed his brother, Mr. Gustavo Calderon-Moreno, a long time June Lake resident, had been driving the vehicle and left the scene of the collision. CHP officers responded to Mr. Calderon-Moreno's residence and contacted him there. After interviewing Mr. Calderon-Moreno and having him perform a series of field sobriety tests, it was determined he had been driving while under the influence of an alcoholic beverage.
The vehicle was towed from the collision scene and Mr. Calderon-Moreno was subsequently cited and released for DUI and hit and run. Mr. Calderon-Moreno's driver license was seized and driving privilege was suspended. Charges are pending through the Mono County District Attorney's Office. "It is unfortunate Mr. Calderon-Moreno chose to drive after drinking. His vehicle was damaged, he lost his driver license and has legal issues ahead. It is fortunate he was wearing his seatbelt, was not injured, and that he did not injure anyone else." Said Lieutenant R.D. Cohan, CHP Bridgeport Area Commander.