Press release
On Thursday, August 10, 2017 at approximately 3:45pm, the Bishop Police Department began receiving multiple reports of a single vehicle accident, reporting a pick-up truck had collided with a utility pole near the intersection of N. Main and W. Yaney Streets. Continuing reports indicated that the utility lines were also down across Main Street.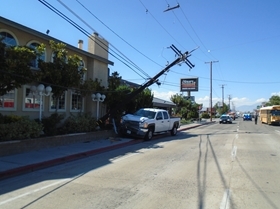 Units from the Bishop Police Department, Bishop Fire Department and Symons Ambulance responded to the scene and traffic was immediately diverted off of Main Street.
Additional resources were requested from the California Highway Patrol, California Department of Transportation, Southern California Edison and the City of Bishop Public Works Department.
The driver of the pickup, a 70 year old male out of Nevada, appears to have suffered a medical emergency while traveling southbound, which caused him to veer off of the road-way and to collide with the utility pole.
A female passenger, also from Nevada, along with the male driver were both transported to Northern Inyo Hospital for evaluation and medical treatment. One additional person in the area was reportedly struck by the downed power lines. Symons ambulance treated and released this party at the scene.
The damaged utility pole caused a loss of power for several businesses and residences in the area. Crews from Edison remained on scene all night conducting repairs, which are continuing Friday. Southbound traffic on Main Street has been reduced to one lane as these repairs take place.