Press release
LONE PINE, CA – Metabolic Studio's IOU THEATRE will present their next radio play relevant to the Owens Valley, 22 year old Lone Pine resident and writer Manuel Ruiz' "The TOWNIES" on Sunday May 15 at the Double L Saloon at 7:00pm.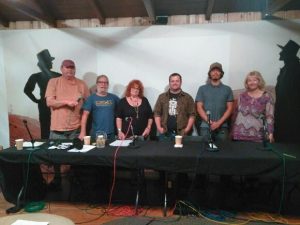 Collective listening with tea will also be held inside the Gertrude Stein Salon, a recreation of the art collection of this American writer living in Paris who collected masterpieces of Modern Art before they were well known, at 123 Main Street. (Free Friday afternoon teas are also held in the Gertrude Stein Salon from 2:30-4:30pm and it is open by appointment by calling 800-571-0745.)
The program is FREE and OPEN TO THE PUBLIC – 21+ at the bar, all ages at the Gertrude Stein Salon. A live broadcast of the production can also be heard at IOURADIO.org and 89.9FM in Lone Pine.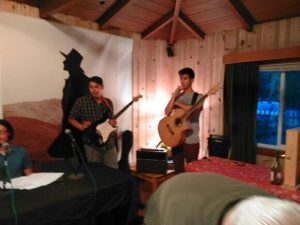 This original script follows the story of 20-something young adults growing up in Lone Pine and pondering their futures and life goals. Whether to stay or to go, find love, fulfill family obligations or pursue a dream and leave for uncharted territory…Writer/Director Manuel Ruiz states "the script is about taking chances at a young age, knowing what you want out of life and not letting fears or other people stand in the way of your life goals. Sometimes you have to leave your comfort zone in order to figure our what you really want out of life."
The IOU Theatre troupe of performers from the Owens Valley (from Bishop to Lone Pine, CA) will read the radio play and perform live sound effects and old time foley art. IOU Theatre performers and musicians include: Chelsea Benbrook, Cordero Chávez, Grant Whitney, Jennifer Duncan, Jim Shallcross, Max Rosan, Sharon Avey, Victor Silvas, Jeanie Smith (Assistant Director) and Victor Silvas.
Why IOU Theatre? Since 1914 Los Angeles has been exporting water from the Owens Valley. Metabolic Studio has been working to transform resources into actions that support life in the Owens Valley. The Metabolic Studio IOU Theatre joins the IOU Garden (2009-present) as a way to add additional culture to what's on offer in the Owens Valley. The Metabolic Studio launched "IOU THEATRE" in 2014.
Since 2009 Metabolic Studio has programmed space donated to us by the Los Angeles Department of Water and Power. We call this the IOU Garden. Over the years it has been a garden and resource center. We've distributed soil, IOU Dirtbags, Owens Dry Lake Bread and held one hundred conversations about water during a year long commemoration of the centenary of the opening of the Los Angeles Aqueduct.
ABOUT METABOLIC STUDIO – Derived from the Greek word for change, "metabolism" is the process that maintains life. In continuous cycles of creation and destruction, metabolism transforms nutrients into energy and matter. Lauren Bon's studio practice includes a team of individuals that work together across a range of investigative platforms, transforming resources into energy, actions and outcomes.
Ms. Bon is trained as an architect and is a practicing visual artist. Her Metabolic Studio creates "devices of wonder" that are specific to sites; interrogating land and water use and positing new modalities in thinking and behavior. The Inter-Mountain West, stretching from the Rockies to the Sierra Nevada is a terrain formed by the forces of water and fire over glacial time. It is our shared watershed that is the focus of the geographic scope of the Metabolic Studio's work.
To learn more about Metabolic Studio, go to: http://metabolicstudio.org
FACEBOOK: MetabolicStudioIOUTheatre