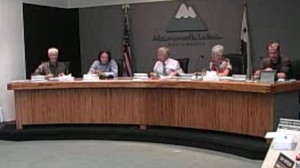 TOWN COUNCIL HIRES INTERIM TOWN MANAGER  (TOML press release)
Mammoth Lakes, CA – On September 24, 2013 the Mammoth Lakes Town Council approved in principle an agreement to hire an Interim Town Manager. Daniel C. Holler will assume the role of Interim Town Manager on Tuesday, October 1, 2013. Town Council will take action formalizing the contract at its regular meeting on Wednesday, October 2, 2013.
"I am excited about working with the Town in the coming months," stated Mr. Holler. "I am also looking forward to the opportunities and challenges of the position and helping to continue making Mammoth Lakes a great place."
Mr. Holler was most recently the City Administrator for Grass Valley in Nevada County. He served in that capacity for 5 1⁄2 years providing management support to the City Council and general administrative support for all City departments. Departmental oversight included: Police, Fire, Public Works/Engineering, Community Development, Finance, Human Resources and City Clerk. During his tenure as City Administrator, Mr. Holler served as Chief Negotiator for the City, and coordinated the development of a tourism marketing and promotional program along with the establishment of a revised Chamber of Commerce and Visitor Center.
Mr. Holler started his government career in 1988 with the City of Glendora. He also worked for the City of West Covina in the Finance Department for 6 years before transitioning to Douglas County, NV as the Budget/Fiscal Officer and County Manager. Mr. Holler has a Master of Public Administration degree and a Bachelor of Arts degree in Political Science, both from Montana State University. He enjoys skiing, hiking, golf, rafting and traveling.
In addition to assuming the customary Town Manager duties, Mr. Holler will coordinate the search for a permanent Town Manager.