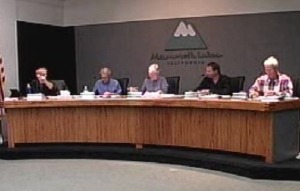 Town of Mammoth officials so far have little comment on the settlement offer from Mammoth Lakes Land Acquisition.  They plan to talk about it in a closed session during a special meeting Thursday.  One Town Councilman did say Mammoth and MLLA have differences of opinion over what the Town of Mammoth needs to survive. Also on Thursday, separate from the MLLA issue, the Council will look at borrowing $4.7 million from the Town's vehicle replacement fund.
It was late last Friday when Jay Becker of MLLA emailed to our newsroom a letter written for the Town of Mammoth.  The letter criticized Mammoth for how negotiations have unfolded over payment of the $42 million lawsuit judgment and then made the Town an offer.  The deal asks the Town to pay $2 million now and $2.8 million each year for 30 years.
Asked to comment on this turn of events, Mayor Jo Bacon said, "We are doing  a bunch of research on it right now and will discuss it on Thursday."  The Mayor said that attorneys prefer that the Council not say anything yet.
Councilman Rick Wood did not want to comment on the details of the offer, but he did have some comments about MLLA.  Wood, also an attorney, said it's important for him to be patient with the process.  He did say that MLLA's letter revealed "posturing" by the company.
He said the two sides may have different views on what the Town can afford to pay.  Wood also said that MLLA and the Town differ on what might be called discretionary spending.  Wood said, "Just because money is not restricted doesn't mean the expenditures made are not essential to this Town's survival.  We'll be dealing with this."
Wood also said that it is in the "best interest of the community" that the Town has honored the confidentiality agreement between MLLA and Mammoth over negotiation details "even though they sent our letter to the media," said Wood.
Mammoth Town Manager Dave Wilbrecht offered no comment on the MLLA offer, but he did say that there would be an added item on Thursday's special meeting agenda.  Wilbrecht said it would include a resolution to take a loan from the Town vehicle replacement fund to pay for some current expenditures and to repay past Town loans from the Developer Impact Fee fund.
Wilbrecht said a staff report will be out soon on this.  He did say that the loan would be for $4.7 million of the vehicle replacement fund's $10 million or so.  Still up in the air is the $2.2 million shortfall in next fiscal year's budget.  Town officials have said they need concessions from employees to help balance the budget.
Thursday's special meeting agenda says it all starts at 1pm with a closed session and at 2pm discussion of financial difficulties and availability of funds for critical payments related to the MLLA process.