Town of Mammoth officials continue to hand out detailed information to officials of Mammoth Lakes Land Acquisition, the Santa Monica firm that holds the big $41 million airport lawsuit debt against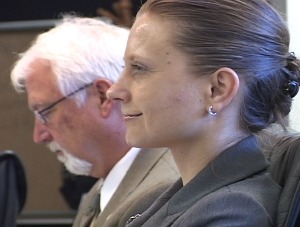 Mammoth.  Officials from both sides will sit down for a conference call next Monday.
Consultant for Mammoth, Marianna Marysheva-Martinez, told Sierra Wave that the Town continues to provide information to MLLA on a weekly, if not daily, basis.  She said there are still some outstanding questions, some of which require an extensive amount of work by the staff.
Martinez named some examples.  She said MLLA wants a detailed schedule of all Town assets – land, rights of way, vehicles.  "It takes time," she said.  Martinez also said that MLLA wants a lis of quantifiable benefits from air service.  She said the staff is struggling with that one because studies deal with national multipliers and not specifics on Mammoth Airport.
Why do MLLA officials want all of these details?  Martinez said her educated guess is that they are "trying to see the return on Town investments – whether high or low." Martinez said that MLLA looks at things through the eyes of business, not necessarily public service.
On Monday, July 25th, officials of the Town and MLLA will talk on a conference call to discuss the status of things and when they will start to talk about options available in the settlement of the debt.  On the Town's side, Town Manager Dave Wilbrecht and Martinez will handle the call.  For MLLA, Jay Becker and Terry Ballas are expected on the other end.
Martinez said they will not engage in formal settlement discussions Monday but exchange ideas in a "brainstorming process."  As for Town government, Martinez said things are happening every day but that "We have this ship under control."