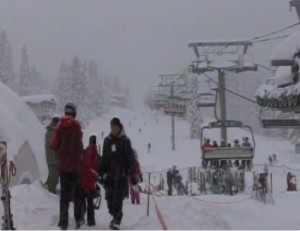 Open this week's edition of Town e-News: (Click on link)
In Town News… Save the Date: Town Clean-Up Day is Saturday, May 17. Get your FREE orange bags from the Town Offices or the Mammoth Disposal Transfer Station. Look for all the details in this week's SHEET. Thank you in advance for taking pride in your Town!
Around Town…Tioga Pass (SR 120) opened, closed and re-opened, the Lakes Basin is also open, as is Sonora (SR 108) and Monitor Pass (SR 89). The road to Reds Meadow and Devils Postpile is scheduled to open by Memorial Weekend.  Click herefor road conditions in the Eastern Sierra. Mammoth Mountain is reporting a base of 18-70" on 76 trails with access from 6 lifts.  Make tracks to Mammoth this Memorial Weekend and tackle the SKI/BIKE/GOLF Challenge for only $99!
This Saturday, Chamber Music Unbound presents The Felici Piano Trio and the Eastern Sierra Chamber Orchestra, Daniel Allcott, guest conductor, in a concert entitled "Memory" at St. Joseph's Church.
On Tuesday, May 13 get on over to the MHS for Suds & Sweets (car wash/bake sale fundraiser) and while you're there, register for fall soccer with Mammoth AYSO from 4:00 – 7:00 p.m.  The Annual Blood Drive is back at Fire Station 1 from Tuesday –Thursday, and Friday, May 16 is registration for MYFL and Cheer at the ML Library from 3:00 – 6:00 p.m.
Looking Ahead…May 23 is opening day for the Mammoth Bike Park, Adventure Center and Sierra Star Golf Course.
Recreation News… "Little Sluggers" Instructional T-Ball is underway, pick-up soccer is scheduled every Sunday night at the MHS gym, the Whitmore Pool opens for lap swim on May 19, and midweek transit service to Whitmore commences June 23.Reserve your summer camps now!
Town Meetings… On May 12, the Mammoth Lakes Recreation (MLR) Transition Committee meets in Suite Z at 3:00 p.m., the Planning and Economic Development Commission meets on May 14 in Suite Z at 2:00 p.m., and Town Council meets on May 21, in Suite Z beginning at 6:00 p.m.
Review the latest forecast – Splendid spring weather.
Make it a safe and great week & Happy Mother's Day!
Stu
Stuart Brown
Recreation Manager & Public Information Officer
Town of Mammoth Lakes