As the Mammoth Town Council gets ready to vote on the new town government budget, Town Manager Rob Clark and Finance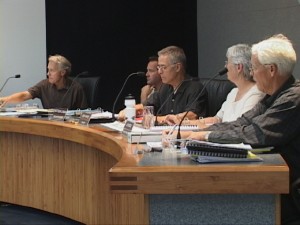 Director Brad Koehn issued an analysis of the situation and news that the deficit has dropped from more than $1.5 million down to roughly $717,000. Although the Agenda Bill says the managers recommend Option 1, layoffs and employee concessions, to balance the budget, Town Manager Rob Clark says he meant to say that all options are on the table. Clark did say he will issue a memo Wednesday afternoon which will lay out recommended positions for layoff if the Council decides to balance the budget with staff cuts.
The agenda item on the budget for Wednesday night's Town Council meeting shows a number of items that caused a some $800,000 drop in the deficit. Increased State snow removal reimbursement, updated allocation of staff costs, increased fee revenues and reduced airport terminal debt payment. Clark and Koehn offer six options for the Council to balance the budget.
One option calls for a payroll reduction of the whole deficit through layoffs or negotiated concessions. A closed session with labor groups was scheduled for tonight (Monday night). Other options would use more than $400,000 in surplus, change revenue budgeting, reduce the contribution to the Reserve for Economic Uncertainty, or approve the budget with current staffing and instruct the Town Manager to develop a "phased program to streamline administration and other staffing levels over the course of the year, based on TOT actual revenues" received.
Wednesday night's meeting starts at 6pm. The budget public hearing is the third item on the agenda.