Press release
Mammoth Lakes, CA – The Town is pleased to announce the launch of its new
enhanced, mobile responsive and easy to navigate website. The website went live
on December 14, 2017 after almost a year of staff planning with leading municipal
website provider, CivicPlus.
"We are thrilled to deliver a state of the art website for the community of Mammoth
Lakes. This new website will make it easier for our residents and visitors to
conveniently and expeditiously access many of our services online, such as paying
bills, watching meetings, staying connected with the Town, applying for jobs, or
reserving a camp, activity or facility," stated Stuart Brown, Parks and Recreation
Director and Public Information Officer.
The Town of Mammoth Lakes contracted with CivicPlus in 2009 to provide a fully
integrated website utilizing a user-friendly content management system. In the
past eight years, the Town of Mammoth Lakes' website has not experienced any
significant feature, function or design enhancements; just routine content, image
and document updates. According to a CivicPlus account manager, the website is
performing adequately (158,655 visits in 2015), however, advancements in the
content management system, mobile responsiveness, civic engagement tools,
functionality and design have rapidly advanced in recent years, leaving the Town's
website in dire need of a redesign and update.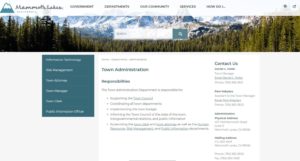 On January 9, 2017 Town Council approved a resolution authorizing the execution
of an agreement with CivicPlus for advanced recurring redesign services in the
amount of $24,621.25 that included enhancements to the Town website and
integration of the Mammoth Lakes Police Department (MLPD) website with the
Town. The MLPD website utilizes the same template as the Town site, but has a
unique color scheme, content and associated design elements.
Driving the redesign process was the goal to provide features and functionality
most requested by citizens, such as paying bills online, online registration and civic
engagement, as well as making content on the website easier to find and navigate.
A major consideration for the comprehensive redesign of the website was the ability
to be mobile responsive. It is a proven fact that an interactive, mobile responsive
website is no longer a luxury, but a necessity. Nearly 80% of the U.S. population
uses the internet and over 66% use mobile devices to consume content. The new
Town site allows the majority of users to easily connect and communicate with
Town staff on a multitude of devices.
The Town would like to recognize the following individuals for their valuable
contributions to the website redesign process: Lauren Plum, Hannah DeGoey, Jamie
Gray, Amanda Pelham, Neil Pieterse, Cassandra Mance, Nate Greenberg, Pam
Kobylarz, Sierra Shultz and Kim Cooke.
CivicPlus is a cloud-based solutions company working with over 2,300 local
governments including municipalities, townships and counties to deliver smart
government solutions, responsive support, and unique insights that evolves the
way municipalities engage with their communities.
The Town anticipates revisions to the website will be required to keep pace with
rapid technological advancements and to meet the growing needs and expectations
of the community.