Press release
Mammoth Lakes, CA – Take pride in your neighborhood and volunteer to help clean-up our town on Saturday, June 3, 2017 from 8:00am to 2:00pm. Join us after for a 'Celebration of Thanks' from 3:00-5:00pm at the Sierra Nevada Resort and Spa. This is a free event for anyone that pitched in and grabbed a bag to help make our community beautiful!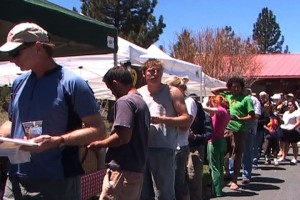 Complimentary orange trash bags are now available for collection (max. 5/person) from the Town Offices located above Giovanni's in the Minaret Village Mall (437 Old Mammoth Road) or at the Mammoth Disposal Transfer Station (59 Commerce Drive).
Beginning at 8:00am on June 3, drop off your trash, recycling, or green waste at the TOWN CLEAN-UP DAY STATIONS conveniently located throughout town. Stations are located at the Community Center (1000 Forest Trail), Sierra Valley Sites (407 Manzanita), and the Mammoth Disposal Transfer Station (59 Commerce Drive).
Please note: large bulky items (refrigerators, mattresses, etc.), metal items, hazardous household items, or e-waste (TV's & electronics) must be taken to the Mammoth Disposal Transfer Station at 59 Commerce Drive.
The Mammoth Lakes Fire District will also be chipping tree limbs (less than 12" in diameter) on site at the Transfer Station from 8am-2pm. Do not leave bags on the side of the road as they will not be collected.
Town Clean Up Day information, maps and complimentary bags will also be available for collection from Mammoth Creek Park onJune 3 between 8:00am and noon.
The Town encourages property owners, renters, community groups, local non-profit organizations, and homeowner associations to engage their constituents and pitch in to clean-up their neighborhood on Saturday, June 3. A bag a person really helps!
Town Clean-Up Day is proudly supported by the Town of Mammoth Lakes, Mono County, Mammoth Disposal, Sierra Conservation Project, United States Forest Service, Mammoth Lakes Fire District, Mammoth Mountain Ski Area, Mammoth Lakes Chamber of Commerce, Disabled Sports Eastern Sierra, Mammoth Lakes Board of Realtors, The SHEET, Mammoth Times, Sierra Wave (Alt 92.5) and KMMT.
For additional information about Town Clean-Up Day, or to arrange for collection of abandoned vehicles, please contact Sherine Sanders at (760) 965-3636.
The Town thanks you in advance for taking pride in your community and we will see you on Saturday, June 3 for Town Clean-Up Day.