Law enforcement sources had revealed on Christmas Eve that a hearing officer had issued a decision document on the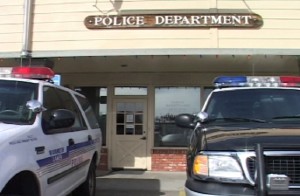 termination appeal case of former Mammoth Police Sergeant Eric Hugelman. Today, Mammoth officials released a very brief news release.
That release says that the Hearing Officer "reduced the penalty and determined Hugelman should be reinstated." The penalty referred to is apparently termination.
The Town release says that the Hearing Officer's opinion is binding unless appealed and that the Town will evaluate its options including whether to appeal the decision. The release further says that the Town Council will be briefed during closed session on January 5th to discuss the options that are available to the Town. The release says, "Since this is a personnel matter and could involve litigation, no further public information can be provided."
We have placed calls to Hugelman's attorney and await a reply. Meanwhile, issues that remain on the public mind – will the Town appeal? Will Hugelman receive a sizeable back payment? Will Hugelman return to Town employ or, as some sources suggest, take a medical retirement?