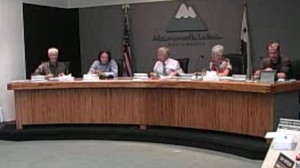 Town Council – Mammoth Lakes,
This letter is in direct response to the resignation of our Town Manager Marianna Marysheva-Martinez.  
I will keep this as short as possible – since our Town Council has no time for the tax payers.  Spending the majority of their time on their own arrogant, self-serving and at times stupid agenda!!   Haven't we all figured out that the majority of our Town Council bases how they operate on self-preservation and ridiculous vendettas?
Here are a few things to consider:
WHAT IS THE AGENDA OF THREE OF OUR COUNCIL MEMBERS?
WHAT HAPPENED TO OUR TOWN MANAGER?
HOW AND WHY WAS SHE FORCED TO RESIGN?
WHY WERE THE CITIZENS OF MAMMOTH NOT INFORMED?
IS THERE REALLY THE TRANSPERANCY IN OUR GOVERNMENT WE WERE PROMISED?
This extremely poor way of governing our town has been going on for years.  Since the citizens have not taken the Town Council to task for their POOR judgment and leadership (i.e.:  multi-million dollar lawsuit, the 4.5 million dollar ice rink, millions of dollars in severance pay, etc.)
THEY HAVE BECOME ARROGANT!!!!!!!  WITH A LARGE DOSE OF I DON'T HAVE TO ANSWER TO ANYONE!!!!!
There are still other legal issues we have no answers to as well, which we need!
Our Town Council is out of control and we need change.  We as a community can't wait until June for a change we need accountability NOW!!!
Please enter this letter into the record of the council meeting tonight.  I want a copy forwarded to the Town Attorney for comment as well.
John T. Vereuck