With the heavy, dark cloud of the more than $40 million debt that hangs over the Town of Mammoth Lakes, officials focused on smaller issues at their meeting last week.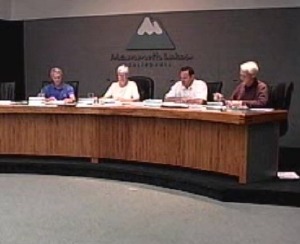 The Town's new logo, described as mountains with snow and a smurf-like mountain, appeared behind the Town Council on the wall.  Tourism
Director John Urdi told the Council that the re-branding of the Town with the new logo will continue with new signs, and 100,000 new stickers. He said Mammoth residents will receive stickers in the mail – a special deal for locals.
In other matters, Councilman John Eastman asked to agendize the possibility of an audit of the High Sierra Energy Foundation since the town has given the organization funds over time. The resignation of the foundation's 5-member board is believed to have contributed to Eastman's request.
Eastman also complained about smoke in Mammoth Lakes from the Lion Fire, left to reduce fuels in the Sequoia National Forest. "It's a good thing in theory," he said, "but the consequences are a fire around 20,000 acres which is ten times the size of Mammoth Lakes."  Eastman said the cost to let fuels burn will rise into the hundreds of thousands.  He also complained about protections for habitat of the spotted owls and frogs in the course of handling the Lion Fire.
Councilman Rick Wood said he was among dozens recreating on Lake Mary when Wildlife specialist Steve Searles and Police Officer Jesse Gorham responded to a bear call.  Wood and many others watched as the two managed a mother bear and two cubs.  Wood said one person asked him if that were the Bear Whisperer at work.  Wood called it a "priceless experience" for visitors.
On the issue of bears, Police Chief Dan Watson said that overall bears are behaving well.  As for the human side, Chief Watson said he awaits a meeting soon with the Forest Supervisor and others over the issue of Searles' use of non-lethal weapons for bear control on forest land.
The Council will show up for a special meeting in Suite Z Wednesday at 6 pm.  Among other things, they will decide on elimination of developer impact fees on smaller projects for one year.