Members of the Mammoth Town Council will apparently conduct a closed session to discuss the Mono County Grand Jury report and the Mammoth Police Department when that report comes out.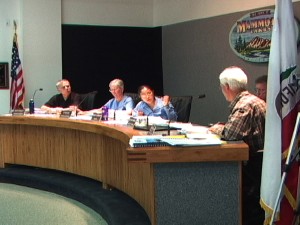 With controversies involving the police department on the rise, officials in Mammoth began to wonder how to deal with things. Some council members have maintained a hands-off attitude toward apparent police department indiscretions. However, last week, Mayor Pro Tem Neil McCarroll said he would ask that a closed session be scheduled to discuss the police department. McCarroll called the involvement of Mammoth policemen in a bar fight in Bishop "regrettable and embarrassing." This incident fell on the heels of a fight in Las Vegas involving some of the same policemen.
McCarroll said Councilman John Eastman also wanted a closed session discussion on the police department.
This week, McCarroll said that a closed meeting will take place but has not yet been scheduled. He said the topic would probably be the Mono Grand Jury report.
Councilman Skip Harvey had said last week he would be willing to get involved in police department issues but would prefer to wait until the grand jury report comes out at the end of June.