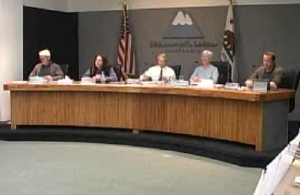 The Mammoth Town Council is poised to approve a new recreation entity tonight. It's called Mammoth Lakes Recreation or MLR. The MLR Formation Committee has a final presentation on how all of this would happen.
Most, if not all, of Mammoth officialdom supports formation of MLR. The voice of critics suggests waiting for a newly elected Town Council to make the decision. The new organization would craft a contract with Town government to provide new and better recreation experiences. The MLR Board would make recommendations for use of tax money from Measures R and U.
The MLR Board would consist of nine directors. Seven would represent recreation interests. One would be an appointed representative of the Town Council and one, from the Mammoth Lakes Tourism Board.
Those in support have said this will give the Town one entity devoted to recreation improvement, innovation and implementation. The idea is to create more attractions in Mammoth and a better economic situation.
This item is number nine on the Council's agenda tonight.
One more note – in a workshop at 5pm before the regular meeting, the Council planned to discuss a fiscal year 2014-15 tentative budget.