It was the same bear discussion at Wednesday nights Town Council meeting. Bears continue to break into homes and cause property damage, Wildlife Specialist Steve Searles continues to be banned from working on Forest Service land, and Bear-With-Us continues to try and have Blondie the bear relocated rather than destroyed. Finally, Mayor Pro Tem John Eastman put his foot down.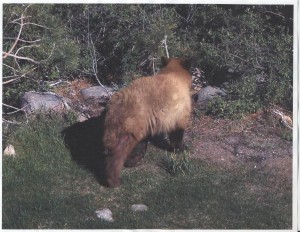 I want to have an emergency meeting tonight about what to do with Blondie once and for all, Eastman said.
Due to the need for public noticing, however, Eastman had to settle for a meeting on Thursday night (tonight) instead. The meeting was scheduled for 6 p.m. in Suite Z. Eastman hopes to bring the Council to a conclusive decision about whether or not the Town should jump through the bureaucratic hoops to obtain a permit from the Department of Fish and Game to move Blondie to a wildlife sanctuary in Colorado, or whether they should continue to have the bear tracked by a United States Department of Agriculture trapper who would remove Blondie from town limits and destroy her.
Searles reported that 51 home break-ins have occurred this summer.
If we continue to go down this path we need to start cutting property owners a check, Searles, who has been a proponent of destroying Blondie, stated.
He also suggested putting a bear collar on Blondie in order to document which break-ins she is truly responsible for.
Vice President of Bear-With-Us, the local non-profit who has been fighting to save Blondies life and relocate her rather than destroy her, Marianne OConnor claimed the non-profit represented the communitys view on what should happen to Blondie. She brought forward five pages of signatures of people in town who would like to see Blondie relocated.
It is a lack of effort on the Towns part that is causing more property damage, OConnor stated. She was referring to her opinion that the Town staff was not pursuing a relocation permit from DFG more actively, and therefore Blondie remained a problem.
A decision on Blondie, as well as a discussion on certifying Searles so that he meets DFGs criteria and can get back to work on Forest Service lands, are expected tonight at the 6 p.m. meeting.