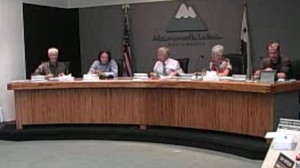 (News Release – Town of Mammoth Lakes)
On Thursday, September 5, the Mammoth Lakes Town Council accepted the resignation of Town Manager Marianna Marysheva-Martinez.  Ms. Marysheva-Martinez served the Town for 2 ½ years as Interim Town Manager, Assistant Town Manager, and Town Manager.  She was instrumental in guiding the Town Council through the bankruptcy filing in 2012, the mediation and settlement of the Mammoth Lakes Land Acquisition (MLLA) lawsuit, and restructuring of the budget necessitated by the lawsuit settlement.
Mayor Rick Wood said, "The Town Council appreciates the hard work and dedication that Marianna provided during these challenging times.  Her budget experience was extremely valuable and helped the Council come to the best resolution for the Town.  We wish her the best in her future endeavors."
A search for an Interim Town Manager has begun and it is hoped that a person will be selected and in place shortly.  Until then, Police Chief Dan Watson is serving as the Acting Town Manager.
Once an Interim Town Manager is hired, a search for a permanent Town Manager will commence.  The selection process will include community input.