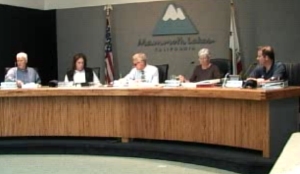 Wednesday night, the Mammoth Town Council will consider approval of the formation of the Mammoth Lake Tourism Business Improvement District. This move would mean annual assessments on gross sales of many businesses to raise $4.7 million to pay for marketing of the Town and for air service subsidy.
This issue is the main item on the Council agenda Wednesday night. According to the TBID website, 68.35% of local businesses petitioned to approve formation of the TBID. A minimum of 51% was required. This issue has gone through the legal steps, including public comment at the Council's last meeting. In that session, comments were about evenly split – for and against the additional tax, as most see it (http://sierrawave.net/25052/tbid-in-mammoth/)
Lodging would pay 1% of gross revenue, retail, 1.5% of gross sales, restaurants, 1.5% of gross food sales, 2% on lift ticket and ski school sales at the ski resorts. With retail and restaurant businesses that bring in less than $150,000 in annual revenue or which do not receive at least 50% of their annual revenue from visitors, payment is $500 per year.
If the Town Council approves this new district, collections will start August 1st. There is an appeal process. Call 760-934-2712, extension 0.