Town of Mammoth Lakes press release
Join us at The Parcel this Saturday, October 20 from 11:00am – 2:00pm for walking tours and a Free BBQ.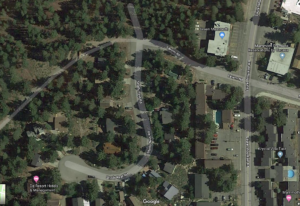 The Town of Mammoth Lakes purchased The Parcel, historically known as the Shady Rest Parcel for workforce housing. Town and Mammoth Lakes Housing staff will lead walking tours every 20 minutes through the Parcel, answer questions and provide information on the project.
The event will be held on The Parcel (1699 Tavern Road), near the corner of Tavern Road and Laurel Mountain Road. Parking is available on Laurel Mountain or the Tavern Road 'Park & Ride'. Please be respectful of theneighborhood and do not park in the residential area of Shady Rest Road. For those with limited mobility, please park on-site at The Parcel, off Shady Rest Road.
Children are welcome and dogs are required to be on a leash – Trail shoes recommended.
For additional information about the event, please review the attached bilingual flyer; visit the Town of Mammoth Lakes website or facebook page, or call the Community Economic & Development Department at (760) 965-3630.
We look forward to welcoming you to The Parcel on October 20!