Mammoth Mountain and the Town of Mammoth Lakes has been hit with lots of snow this winter.  This generally  translates into a good thing.  Great skiing and boarding, beautiful views and water to recharge the aquifers.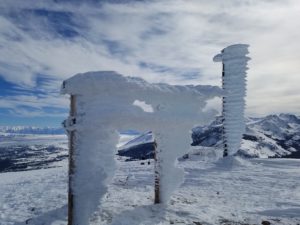 For our local Radio Station, Sierra Wave Radio ALT 92.5,  it has been brutal on our broadcast site on top of Mammoth Mountain.  The winds have reached 164 mph along with huge amounts of heavy snow (see link below). Our antennas have been bent and broken to the point of knocking us off the air on 92.5 fm, but only in the Town of Mammoth Lakes.
The good news is that we are still broadcasting on 92.5 fm from Little Lake to June Lake Junction.  In the Town of Mammoth, we can still be heard on 96.5 fm and streaming live on our web site
www.sierrawave.net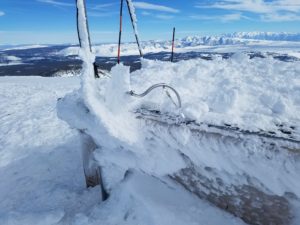 New antennas have been ordered and we expect to be back on the air in the Town of Mammoth on 92.5 fm  within the next 10 days or so.
We apologize for any inconvenience this may have caused.