By Deb Murphy
Will some 11-year old computer geek mess with Inyo's voting results? Can Russia, or some 400-pounder sitting in his bedroom, breach the County's voter registry?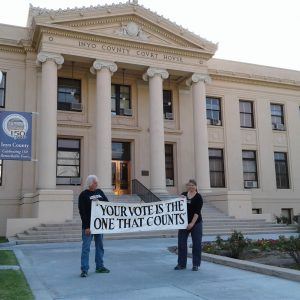 No way. Locals can go to the polls November 6 secure in the fact their vote will count, but just once.
The reason is pretty simple. Inyo's voting system isn't connected to the World Wide Web. It's tucked safely in the offices of Inyo's County Clerk/Recorder and Registrar of Voters Kammi Foote, protected by stringent policies and procedures.
To be fair, that 11-year old didn't really hack into Florida's actual state website. The target of his 10-minutes of hacking was a replica website used during an exercise at DefCon held earlier this month in Vegas. And, while intelligence officials did reveal hackers attempted to breach state voter registration databases during the November2016 election, they may have only partially succeeded in Illinois.
Foote walked KSRW through the process, starting at the polls where voters mark their paper ballots. Those ballots are packaged, security sealed and brought to the independence Courthouse by two volunteers. Everywhere marked ballots go, they're accompanied by two people, that's the rule.
The ballots are re-counted in Independence, then scanned, the only computer interface in the system, Foote said. But that system is protected by an air-gap; in other words, it's not connected to the Internet.
If hackers could get to the equipment before the vote is certified, the results could be messed with, but the likelihood is slim to none. The computers live in a physically secured place—and that's all Foote would say.
However, there are still checks in place just in case a wily hacker got to the equipment. Prior to certification, the votes are audited with a hand-count that is then compared to the scan totals. Inyo also conducted a risk-limiting audit for the special election in April. That audit also served as a test of new voting equipment. "It worked perfectly," Foote said. "It was sound from end to end."
Foote and her staff use computers, obviously, but everything is backed up with printouts. "We could operate without computers," Foote said.
Even staff computers and servers are guarded by a firewall designed to block unauthorized access. Any transfer of voter/election information is done on a one-direction CD or DVD, rather than the more conventional thumb-drive whose info can go both ways.
Foote took delivery of the software for the new equipment personally, meeting the deliverer at Topaz Lake in what sounded a little like a scene from a John La Carre novel. That kind of software can't be shipped, it's all hand-to-hand.
That 11-year-old hacker in Vegas would be faced with an impossible task infiltrating Inyo's voter rolls or results.