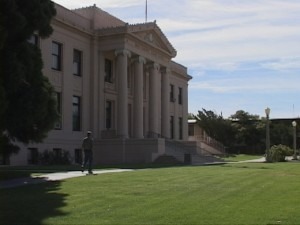 After a machine count and a hand tally, Inyo Clerk Kammi Foote concluded that the results in the District One Supervisor's election remained the same – Dan Totheroh won the election by a majority.
Foote explained that the election statute says that a majority vote is needed to win a primary election, and that amounts to anything over 50%. In the case of Totheroh, he had 50% plus one. Foote said the vote will be certified and will not be final until the Board of Supervisors accepts it. Neither of the other candidates – David Tanksley and Bill Stoll – have asked for another recount.
The election was very close from the start. The final count shows Dan Totheroh with 502 votes, David Tanksley with 405, and Bill Stoll with 94. What was at stake in this election was whether or not Totheroh and Tanksley would go to a runoff election in November. Because Totheroh gained a majority, there will be no runoff. He will take the District One seat in January.
In other local government news, Bishop City Administrator Keith Caldwell said that after a closed session special meeting on Monday, the City Council has chosen to do background checks on both the local and out of town candidates for City Administrator. In that closed session, the Council interviewed the out of state candidate.
Caldwell announced much earlier that he and his wife would return to Georgia to care for his ailing mother in the fall. Now, Caldwell said the process to select a new Administrator "will continue until the background checks are in and a candidate is selected." He said that hopefully the process will be complete by the end of June.