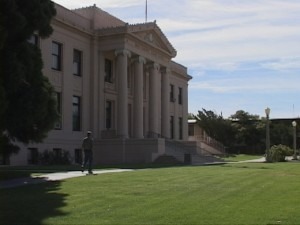 The First District Supervisor race in Inyo County has turned into a nail-biter. The tally of absentee ballots and provisional ballots did bring the race down to Dan Totheroh winning by one vote instead of going to a run-off election with David Tanksley, but with such a close race there will be another hand tally to confirm vote totals.
Following carefully laid out procedures, Registrar of Voters Clerk Kammi Foote and her staff have moved through absentee ballots and Thursday were down to 32 provisional ballots yet to process. 13 of them were in District 1. 10 of them turned out to be valid. So, the unofficial hand tally of the race shows Dan Totheroh with 502 votes, David Tanksley with 405, and Bill Stoll with 94. Totheroh has 50% plus one vote which is enough to win. However, since the election could go to a run-off if Totheroh had only one less vote, the Clerk and her crew will do a hand tally to confirm the vote totals next week.
She explained that the hold up has been the need to finish counting votes by mail and also to complete a process to credit all people who voted. This is required to verify votes. Foote said every voter has a history and her office must enter the new voting information into that data base. With that done, they can turn to the provisional ballots to verify those, which sometimes requires comparing them with the voter history.
A provisional ballot allows someone to come to the polling place and if the name is not on the roster or an absentee ballot was issued or they have no ID, they can cast a provisional ballot. This means Foote and her staff have to determine if the voter is eligible to cast the provisional ballot and is in the right district.
The staff finished counting and verifying the votes by mail Thursday. They then turned to entering votes into the data base. After that, they verified provisional ballots and came to the conclusion that Totheroh had won the unofficial hand tally. Now another hand tally next week to confirm vote totals since they are so close.
One more election note. We had quoted Clerk Foote saying the voter turn-out was 9%. The turn-out percentage does go up when votes by mail and absentees left at precincts are counted. Then the turn-out goes up to nearly 41%. Clerk Foote said she checked records back to 1992 and found that normally for a primary election like this past one, voter turn-out has been over 50%. Again, this time around only one local race was contested. Perhaps voters just weren't that interested.