In a follow-up to concerns that were voiced to the Mammoth Lakes Town Council in March, Finance Director Brad Koehn researched Transient Occupancy Tax Compliance and Enforcement and presented an update at the Councils recent meeting.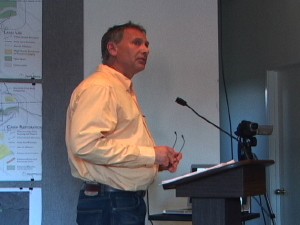 Several local lodging companies in Mammoth Lakes were concerned that with the ever-growing popularity and ease of the internet, many property owners in Mammoth were simply renting out their units on their own, online. The lodging companies feared that these owners were in turn not paying TOT taxes to the Town in the way that the lodging companies are required to.
According to Koehn, however, compliance is higher than most people think.
Ninety percent of the owners who are advertising are in compliance, Koehn stated after having made 340 contacts in 2009 alone. His department is constantly doing research on the internet to look for rental advertisements that may not be in compliance. They also send out an informational letter that informs new residential property owners of the TOT compliance requirements.
Since the concern of losing TOT is so high because TOT provides the bulk of the Towns operating funds, Koehn did add three new items to the compliance procedures document to try to tighten the reigns even further. First, if voluntary compliance is not forthcoming then preparation of assessments and judgment for outstanding taxes can be obtained. Second, the police department will receive a copy of the TOT compliance document if an owner fails to comply, doesnt provide sufficient contact information or has a judgment lien placed against their property. Third, the police will contact the property owner and request compliance within 72 hours. If not successful, the police will proceed with criminal investigations including the potential of a sting operation.
On top of all this, the Finance Department proposed holding an educational program for the Towns audit process in order to make it less intimidating. The audit process is for those owners already remitting TOT taxes. The program will offer several informal information classes that would review the TOT reporting, collecting and remittance requirements, as well reviewing how a typical audit is performed.
To give incentive for participation, remitters that participate in the program would be able to file amended tax returns by October 31, 2009 and any interest and penalties would be waived.
According to Tourism and Recreation Director Danna Stroud, the additions had been discussed at the last Lodging Association and had garnered the support of the 15 companies that were represented, especially the educational audit process.
Council unanimously approved the additions with the condition that Town staff comes back to the next meeting with some options for second homeowners to be able to partake in the audit educational program, possibly by taking a class online.