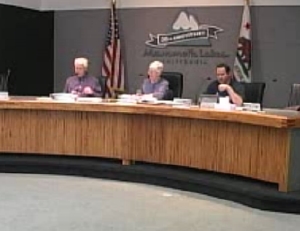 In certain zones in the Town of Mammoth Lakes, overnight rentals are legal, but owners must pay Transient Occupancy Tax. In the case of one property owner, the Town Finance Staff said he had repeatedly rented his property on a nightly basis and failed to pay taxes owed. Wednesday night, John Hopp appealed the determination of taxes, penalties and interest.
The whole amount added up to $54,281, according to Finance Manager Cyndi Myrold. She laid out the string of events that started with a warning letter in 2012 and continued with a series of citations and warnings and sporadic lack of response from Mr. Hopp.
Myrold said Mr. Hopp continued nightly rentals as revealed in sting emails by the Town inquiring about rental rates. The Council gave Hopp a chance to offer his defense. He said that in the past residents had opposed the tax. Mr. Hopp said, "In essence, I'm saying the tax is illegal. I'm not a Transient Occupancy Tax facility. It's ambiguous," he said. "So the benefit of the doubt goes to me."
Councilman Matthew Lehman said the Town Attorney investigated every angle and determined the Towns TOT assessment is legal. Lehman pointed to the evidence that Mr. Hopp's property was listed as a nightly rental on websites. Hopp claimed others pirated his information, but he did admit he had been renting nightly.
Councilman John Eastman asked Mr. Hopp why he had failed to respond to a number of Town notices. Hopp said, "I'm very busy. I've been in Ecuador on business and have personal issues related to the mail." Eastman asked how he explained the fact that he was renting nightly in a single family neighborhood. Hopp said he didn't feel the law was applicable.
Councilman Lehman concluded that Hopp needed to be aware of the laws and that TOT is a large chunk of Town revenue. He said the evidence presented made it "pretty clear this was a case of illegal rental." Councilman Eastman said he was not sympathetic to the property owner "based on the mounds of evidence." Council woman Bacon said she agreed. The only three Councilmembers present voted to uphold the Town's determination and to direct the Staff to require the property owner to pay the $54,281.