As the Olympic Torch passes through the cities of the world on the way to Beijing, protesters, some sympathetic to the plight of the Tibetan people, have used the media focus on the torch to draw attention to their causes.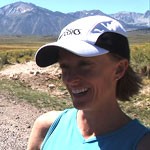 With a core group of Olympic caliber runners who train in the Eastern Sierra, we checked in with Mammoth Olympian Deena Kastor for her thoughts as on the recent hoopla surrounding the torch. Kastor is currently at the US Olympic Training Center in San Diego, her husband Andrew Kastor relayed Deenas remarks over the phone.
As an athlete focusing on the upcoming trials to make the US Olympic team this year in the marathon, Deena Kastor says that this doesnt seem to be the right place for me to discuss Chinese politics. She further added that "the Olympics will bring me to Beijing this summer and the games break down political barriers so the world can come together to celebrate athletic achievement."
Andrew Kastor says that with the upcoming Olympic Marathon Trials in Boston on Sunday, Deena Kastors confidence has started to escalate and she is getting more and more excited.
Another Mammoth runner will compete in the Olympic trials on Sunday. Kate ONeill will also compete for a spot on the US team.
Ryan Hall, who trains in Mammoth and won a spot on the US Marathon team back in November, came in fifth at the London Marathon Sunday.
The Marathon trials to make the womens marathon team are on Sunday, the day before the regular Boston Marathon. Andrew Kastor reports that four other members of the High Sierra Striders running club are scheduled to run the Boston Marathon – Elaine Smith, Dan Meyers, Rick Wood, and Sherryl Taylor.