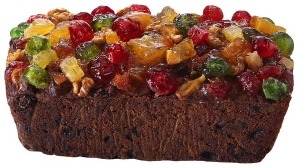 DO WE REALLY NEED SOLAR OR WIND ENERGY?  WE'VE GOT FRUITCAKE!
In a surprise twist, members of the Independence Civic Club have discovered that they have been promoting a renewable energy source, fruitcake, for nine years without being aware of its potential.  "This extremely dense and energy-rich product has the ideal combination of storage potential and multiple use of any plant-based material that has been studied.  It may help meet California's strict renewable energy mandates and provide a fossil-fuel-free future for the world," states Nancy Masters, president of the small organization in Independence, California.
According to members of the Club, fruitcake consists of ingredients that have utilized the sun's energy, such as fruit, nuts and grains.  Those items are then processed into a heavy mass that has an indefinite life span, and that can be used in a variety of ways to produce energy.  "While we don't advocate indiscriminate ignition of fruitcake, in a pinch it can be desiccated and burned for a very hot fire, or placed on coals for a slow burn,"  according to Mary Roper and Don Bright who have been experimenting with various ignition potentials of food products.
Electricity can also be generated directly from fruitcake using electrodes and a light bulb.  Banked arrays of fruitcake have shown no degradation due to age, and continue to produce electricity if moisture content is sufficient.
Doesn't fruitcake require more energy to produce that it can yield?  Not if energy-neutral methods are used, member Annette Wood related.  The use of a solar oven to cook the cake is highly successful, and there are even fruitcake recipes that don't require cooking!
Cost is always an issue for new energy sources.  Roper, treasurer of the club, asserts that fruitcake is a fiscally responsible answer.  Ingredients are widely available and produced in the United States, thus supporting economic recovery.  While some of the ingredients may seem expensive, such as dried fruits, Roper cautions that persons should perform a life-cycle analysis on fruitcake, taking into account its lifespan.  Thus, fruitcake made with today's dollars will be viable in twenty-five years, sidestepping inflationary forces that may challenge our nation.
One of the concerns that members have had is whether fruitcake energy is truly environmentally responsible.  Recent visits by energy gurus at the California Energy Commission pointed to the need to place energy producing facilities on previously-used lands, which is the case with grain, nut and fruit crops.  Fruitcake requires no refrigeration to store, and does not need secure disposal, such as Yucca Mountain.  Fruitcake also can be eaten, providing excellent direct energy as a food product.  Athletes have discovered fruitcake's energy magic, and report that fruitcake's longevity translates directly to staying power – on the playing field and in the backcountry.
Curious to learn more?  The Ninth Annual Internationally Acclaimed Independence Fruitcake Festival will be held December 14, 2013 at 6 PM in the American Legion Hall in Independence.  This year's theme is 20,000 FRUITCAKES UNDER THE SEA.  Inspiration from past Festivals can be found at  HYPERLINK "http://www.inyocounty.info" www.inyocounty.info
All that is required for entrance to this one-of-a-kind event is that you bring either a fruitcake or eggnog.  Those items should be designated as to whether or not they contain alcohol.  This is a family friendly event and we don't want the wee ones imbibing accidentally.
There are prizes awarded for the oldest fruitcake, the fruitcake that travelled the farthest, best of theme, most solids, and judges' award.  Our fruitcake judges employ mechanical, empirical and philosophical techniques to select winning fruitcakes in those categories.  We also have a Best Costume award.  With this year's theme there are endless possibilities for the human fruitcakes to have a winning costume.  We anticipate there will be everything from Mermen to Aphrodite with a few sea anemones and cuttle fish also making an appearance.
This year we are happy to announce that Healthy Communities of Southern Inyo County will be holding a fund raiser for the Independence Kid's Club during the Fruitcake Festival with ocean themed entries:  Clam Chowder or a Tuna Sandwich for the reasonable price of only $5.