Tommie lone Longest
1916-2016
Tommie lone Longest, age 100, passed away peacefully, at the Bishop Care Center on November 22, 2016.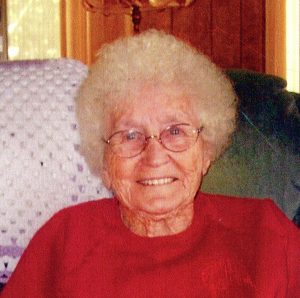 She was born in Kildare, Texas on January 16, 1916 to Thomas and Sarah Porter. As a young child, her family relocated to Los Angeles where she grew up.
In 1935, she married the love of her life, Kenneth C. Longest. They were married for 49 years and had two children Kenneth Richard Longest (Louise), Bill Longest (Nola), and later adopted Rodney Glen Longest. Throughout their marriage, they would visit the Eastern Sierra because of the outdoor opportunities, including hunting. In 1978 she and Kenneth relocated to Bishop to be closer to their children and grandchildren.
Tommie lone was dedicated.to being a house wife and mother, but was also a known seamstress for Hollywood movie stars. She had a great love for crocheting and knitting. She was a student of the Bible, reading scriptures daily and was a member of the Neighborhood Church for many years.
She is survived by her children and grandchildren, including: Kevin Longest (Andrea Conetto), Paige Varnum (Kevin), and Bailey longest, all of Bishop; Kari McDade (Jim) and Cody Himes, all of Bishop; Kelly Salias (Kenny), Kelsea (Great-great grandchildren, Dylan and Aubrey) and Kyle, Wendy Carrington (Damon), Ryan and Alisha, all of Big Pine; Tammy Plank (John) and Rowdy Martin, of Idaho; Denis Longest (T), Kyle, Hazel, Shelby, and Tommie lone, all of Texas, along with numerous nieces, nephews, and cousins.
She was preceded in Death by her husband, Kenneth C. Longest (1907-1984) and Grandson, Danny Longest.
Graveside services will be held on December 2nd at 11:00 at the East Line Cemetery. In lieu of flowers, family is requesting donations be made to the Bishop Care Center in Honor of Tommie lone Longest. Reception immediately following service at Bill Longest's home at 2343 Sierra Madera Rd., Bishop.
The family would like to extend their gratitude towards the many staff at the Bishop Care Center for taking care of our beloved Mother and Grandmother during the last years of her life.