Longtime Owens Valley resident Thomas "Tom" C. Poole, passed peacefully on July 29, 2013 in Phoenix, AZ, after a long battle with leukemia. He was 79 years old.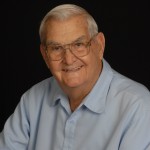 Tom was born November 7, 1933 in a two-room hospital in Lone Pine, CA, to William "Bill" and Bessie Poole. He graduated from Owens Valley High School in 1951. From there he attended San Bernardino Valley College.
He joined the United States Air Force and was stationed in Illinois, where he met and married his bride of nearly 60 years, Lynn. They returned to the Valley in 1957. Tom had a career spanning 36 ½ years with LADWP, during that time he operated Poole Aviation from 1969-1994, taught aviation and business at Cerro Coso community College for 10 years all while He and Lynn raised their family.
After retiring from LADWP in 1987, He worked as the Airport Manager at the Bishop airport in Bishop, CA.
Tom was very active in Community Service. He served with the American Legion, 40/8, Boy Scouts of America, Owens Valley Unified School Board, Independence Volunteer Fire Department, Independence Fire Commission, Selective Service board member for Inyo, Mono and Alpine Counties, Southern and Northern Inyo Airport Advisory Committees and volunteered for The Bishop Swim Team.
For many years Tom was a winter resident of Yuma, AZ.
He was preceded in death by his parents, William "Bill" and Bessie Poole.
Tom leaves His wife Lynn; his daughter Terre and her husband Gary Bitters of Lake Elsinore CA; his son T. Craig Jr. and his wife Lisa Poole of Fresno, CA; his daughter Sheryl and her husband Koby Krick of Phoenix, AZ. He also leaves his grandchildren Mark and his wife Hope Berry; Rachel Berry; Chris and his wife Melissa Bitters; great grandchildren, Peter and James Berry and Hailey and Emily Bitters, as well as several loving cousins and a host of friends.
Or in His words "whoever outlived me"
Services will be held on Saturday August 31, 2013 at 10 am, at the Pioneer Memorial United Methodist Church, 157 N Washington St, Independence, CA. Private internment will follow.
In lieu of flowers donations in Tom's name can be made to the Independence Volunteer Fire Department, PO Drawer B. Independence, CA 93526, Pioneer Memorial United Methodist Church, PO Box 207, Independence, CA 93526 or Carson and Colorado Railway, PO Box 194, Independence, CA 93526