– Press release
On June 24, 2015, 10 Inyo and Mono County tribal and community organizations gathered at Toiyabe Indian Health Project for a Kick-Off Conference hosted by the Toiyabe Community Wellness Program. These 10 organizations were awarded grant funds to complete one to three year projects that benefit tribal communities by focusing on increasing access to healthy food, active living, and commercial tobacco-free environments.
F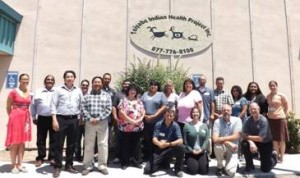 unded by the Centers for Disease Control and Prevention (CDC's) Partnerships to Improve Community Health (PICH) initiative, Toiyabe Community Wellness Program is working to increase access to physical activity opportunities, increase access to environments with healthy food and beverage options, and protect people from second-hand smoke exposure.  In all of these areas, work is focused on collaborative, community-driven, and sustainable projects.
"Through this grant from the CDC," said Toiyabe's Chief Executive Officer David Lent, "We are empowered to develop and maintain healthy individuals, families and Indian communities while fostering tribal sovereignty, self-sufficiency and cultural values by sub-awarding the funds to our tribal and community organizations."
From north to south, funded organizations are: Mono County Community Development, Bridgeport Indian Colony, Cerro Coso Community College, Bishop Indian Head Start, Bishop Paiute Tribe, Bishop Paiute Tribe Environmental Management Office, City of Bishop, Big Pine Paiute Tribe, Big Pine Paiute Development Corporation, and Lone Pine Paiute Shoshone Tribe. Stay tuned as we share more about each project in the coming months! Like the Toiyabe Community Wellness Program on Facebook or email [email protected] to subscribe to our newsletter.
Toiyabe Indian Health Project is a consortium of 7 federally recognized tribes and 2 Native American communities from Coleville to Death Valley. In the Preventive Medicine Department, the Community Wellness Program works to reduce and prevent chronic disease, such as diabetes, obesity and heart disease, within the Toiyabe service area. Our objective is to create healthier communities by making healthy living easier and more affordable where people work, live, learn, and play.