The following is a press release from the Mono County Health Department:
Twenty one years ago, Californians passed Proposition 99 – a 25-cent tax on tobacco products. The first tobacco education programs in Inyo and Mono County began in Spring of 1990.  Today, California has reported a tremendous return on that investment. More than 1 million lives in California have been saved; California now has the second lowest adult smoking rate in the nation (Utah has the lowest rate) and lung cancer rates in California are decreasing three times faster than the rest of the country.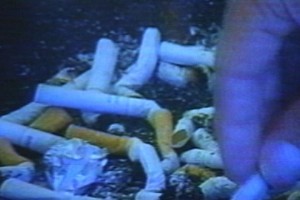 The California Public Health Department reported that over the last 22 years, the California adult smoking prevalence has been reduced by 50 percent, from 23.7 percent in 1988 to 11.9 percent in 2010.  Smoking by young adults has fallen from 22.4 percent in 2001 to 12.3 percent in 2010.  Smoking among high school students decreased from 14.6 percent in 2008 to 13.8 percent in 2010.   Local and State tobacco control programs has helped California has save $86 billion in smoking-related health care costs.  California's success is attributed to a broad-based attack which included 100% smoke free policies, aggressive media campaigns, tobacco tax increases and programs to help people quit smoking.
"Before 1990, only the American Cancer Society and American Lung Association were around to help smokers quit", reports Nancy Mahannah, Mono Co. Program Manager. "Remember this was before internet was in common use. Our program has helped over 500 people quit smoking in the past 20 years.  Now internet sites, trained health care providers and the California Smokers' Helpline (1-800-No-Butts) are around to help anyone quit at any time." While California's program was the first of this magnitude in the world, most countries and States now have tobacco control programs in hopes of decreasing their people's burden of death, disease and health care costs.  All this began with a simple tobacco tax.