GERALDINE "GEBBY" VALENTINE AUBREY-MCMURRY
1919-2016
We, the loving family of "Gebby", would like to "Toast" to the the full and adventurous life of one tough fun-loving lady! Gebby was nearly a life-long "Bishop-ite" of 97 years.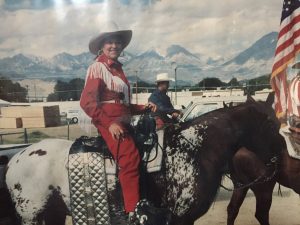 She was born in Goldfield, NV. to a pioneer family who left Goldfield in 1926 after the 1923 devastating fire to establish the Aubrey ranch on Brockman Ln.
There, Gebby, helped her parents by riding, roping, and performing the duties required of cattle ranching and breaking work horses. Gebby told stories of "running" cattle on the Matlick ranch (present-day Highland/Meadowcreek home areas) and east of Brockman Ln (now part of the Indian reservation).
She spoke of walking to the West Bishop one room schoolhouse(now the Valley Presbyterian Church), and of being "snowed in" in Bishop for 2 weeks in the great snowstorm of 1933, until her dad could fit the wagon with sled runners.
She remembered not having any shoes and of her mother going without food so she and her siblings could have a bit of bread and jam in the Great Depression of 1929.
As a young woman, Gebby worked in the prestigious "Copper Kettle" (the current site of Whiskey Creek). It was there, she met many movie stars, including "Hopalong" Cassidy, Henry Fonda, Cary Grant, Veronica Lake, Elisha Cook and others. In fact, she was the talk of the town by going out on a date with Cary Grant to the Bishop Theater and dancing down the street with him all the way back to the Copper Kettle.
Being an excellent horsewoman, she was chosen to be the much coveted Rodeo Queen in 1939, a high honor in those days. Also, she was chosen as co-Rodeo Queen of Lone Pine with Spainhower, in 1938. She cherished her awards of a personalized hand-tooled saddle and silver spurs till the day she died. She jockeyed racehorses and even rode bucking steers.
At Bishop High School, she met the love of her life… handsome, athletic Lloyd McMurry, a descendent of the Big Pine and Deep Springs' pioneering McMurry's. Lloyd was an avid outdoorsman, guide, hardworking miner, "powder-man", and rancher. Together, they fished, hunted, "floated the river", and explored our local mountains.
They shared ventures such as operating Bishop Laundry, McMurry's Bar, brought State Farm insurance to Bishop and finally invested their talents into owning and operating McMurry's Sporting Goods for approximately 25 years.
They were instrumental in starting the Bishop Gun Club and Bishop Little League.
Gebby proudly held the title of Chief Telephone Operator of the local telephone company in her young adult years.
In later years, she ran the sporting goods single-handedly while Lloyd worked construction.
Despite her duties as a busy businesswoman, Gebby found time to raise and teach her 3 children to hunt and fish.
In 1995, Gebby was honored to ride as the last Grand Marshall in the Bishop Homecoming Labor Day Parade. Her travels included trips to England, Ireland, floated the Amazon River, and "rode class 5 rapids" in Australia at age 83.
In her 90's she caught salmon in Alaska and rode a zipline in Hawaii.
Now she's left this earth to walk the green grass of Heaven with her parents; Fred H. Aubrey, Catherine Ross-Aubrey, beloved husband, Lloyd McMurry, siblings; Esther Aubrey, Bertha (Cline), Francis (Carlson), Fred Casper "Cap" Aubrey, and Florence (Ray). Also, grandchildren, Loralee, Scotty and companion, Mick Powell.
Survivors include her son, Lloyd A. "Skeeter" McMurry, wife, Ronda; daughters, Cathy McMurry, and Dara McMurry-Powell, husband, Pat Powell. Grandchildren: Mike, Heather, Audrey, Kelly, and Matt McMurry; Norman, Leon, and Ronda Hubbard; Patrick, Skye and Scotty Powell. Also their spouses and too many grand, great-grand, and great-great grandchildren to list here.
Soooo…. HERE'S to Gebby and the exciting life she led! ·We pray the sun is smiling on your face, there's a rainbow in the sky, the wind is at your back, and your Irish eyes are smiling as you dance your jig!!!
Services to be held on December 3rd at 1:00pm at Brune Mortuary, graveside service to follow at East Line Cemetery and celebration of life at VFW at 3:00pm. In lieu of flowers please send donations to Laws Museum.