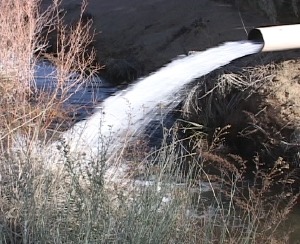 More than twenty-two years ago, Inyo County and the Los Angeles Department of Water and Power signed a long term agreement that was supposed to end disputes over groundwater pumping. Those disputes continue, and there is still no agreed upon method to control pumps.
The section of that long term agreement that was supposed to manage pumping to avoid damage is ironically called The Green Book. Both Inyo and LA have agreed that this set of rules has failed. For six years, they have debated what to do next. Now, they will get back to talking with a facilitator and more studies.
Inyo Water Director Bob Harrington said the Green Book revision has sat on a back burner while the Water Department has dealt with other issues, like a dispute with LADWP over the Black Rock area and damage done there. Inyo says pumping has killed part of the environment. LADWP denies it.
Last week, the Inyo Supervisors approved a contract with a facilitator, Susan Carpenter, to sit down with both sides to look for answers. Harrington said LA has challenged some of Inyo's plant data and talks have been more or less stalled. Harrington is confident that Inyo's data is good. He and his staff are looking at management of pumping based on depth to water. What's the hang-up to that logical approach?
Harrington said DWP wants to sort out surface water and precipitation from groundwater fluctuations. He said Inyo has never disputed that. Discussions, he said, have "gone around in circles." In the last couple of years, Harrington said, disputes over Black Rock and DWP's pumping plans have consumed time and effort.
The Water Director also said that both sides have agreed to use the Ecological Society of America to "assemble a panel of scientists to assist with the Green Book revision process." More so-called cooperative studies also lie ahead. LADWP, according to the Water Agreement, will pay for the studies and facilitation.