October 2, 2012
For Immediate Release: 
Contact: Jane McDonald at 510-468-7113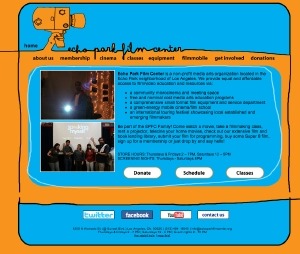 Echo Park Film Center To Offer Free Film Workshops for Local Residents during Lone Pine Film Festival   (Press Release)
This weekend, Paolo Davanzo and Lisa Marr of the Echo Park Film Center will offer two free film workshops for local residents of the Owens Valley at the Metabolic Studio IOU Garden.
Beginning on Friday afternoon, the Center will offer 6 local youth the opportunity to participate in a Three Day Shoot Out. Highschool students who participate will be supported to make their own movie, learning how to shoot, process, and edit their own film which will be shown on Sunday night.  Space is limited, so interested students should call 510-468-7113 to sign up by Thursday, October 4 at 5 pm.
Adults and other family members will be offered the same opportunity on October 5 and 6, between the hours of 12 and 5.  Film screenings will take place between the hours of 8 and 11pm.
The Echo Park Film Center is a non-profit media arts organization committed to providing equal and affordable community access to film/video resources.  http://echoparkfilmcenter.org/
The Metabolic Studio IOU Garden is located on Main Street at Willow, in downtown Lone Pine.
For more information, contact Jane McDonald at 510-468-7113